News 2015
2nd December 2015
Our last get together of the year,
the North West Golden Retriever Club Christmas Ringcraft Party!

A great time was had by all!!!
See you next year :)
15th November 2015
Hyde and DCS
Storm went back into the ring after a five month break and was placed 2nd in his first Postgraduate Class under Judge, Ms M Jaques (Curlabull)
1st October 2015
Recieved this wonderful photograph of Storm's brother, Elton, all ready to be paired with his new family as an Autism Assitance Dog.
So proud of him as I am of all this litter They all have the most loving and caring natures.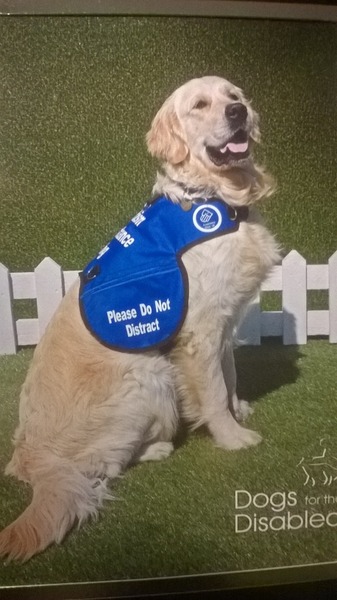 5th August 2015
Nearly all of Neha & Spooks' puppies have gone to their wonderful new homes now. Our last little lady leaves for Scotland next week. We would like to wish them all the best of luck as they begin to make wonderful memories with their new families xx
However this little guy is hopefully going to be flying the Raiveslake flag in the show ring at the end of the year.
Raiveslake Boogie Shoes owned by Beverley and Graham White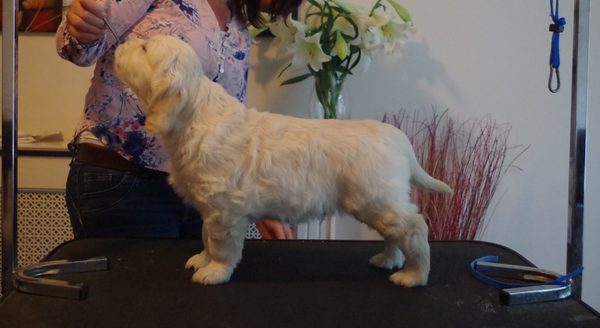 Rocco at 6 weeks practicing his show pose :)
*********
6th June 2015
We are proud to announce the arrival of Neha and Spooks' puppies early on Saturday morning, four healthy boys and four healthy girls!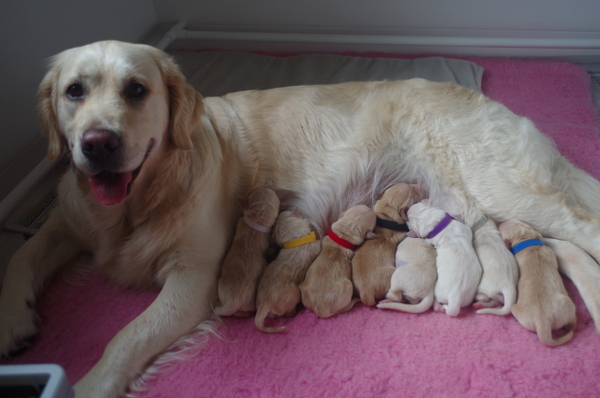 Little chunks of golden loveliness,from the palest of golds right through to the darkest!
25th May 2015
Great Harwood Agricultural Society Open Show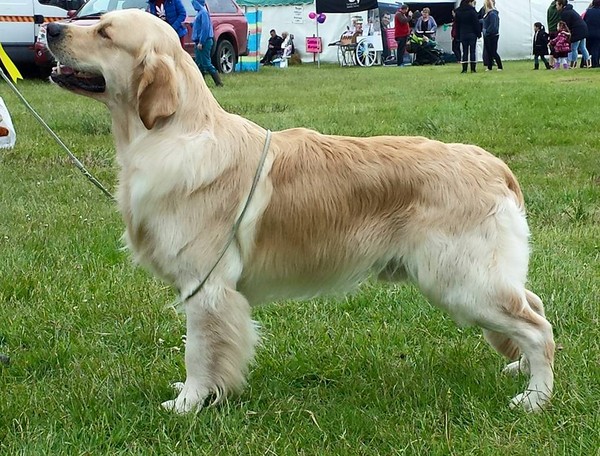 Raiveslake Urban Storm
1st Junior
&
BEST OF BREED!
Judge: Vicki Robertshaw (Arkenscales)
This will be Storm's last show for a while as he takes a long well earned rest from the show ring. Hopefully he and Neha will be out together again at the end of the year.
10th May 2015
The National Championship Show
Another good day with another great entry!
Raiveslake Urban Storm
VHC Junior
Reserve UnderGraduate
Judge: Catherine Zingg (Rayleas)
7th May 2015
Storm's health results are back!
So pleased to say he has
6 : 7 hips
0 elbows
Clear eye certificate
PRA 1 & 2 hereditary clear!
:)
26th April 2015
West of England Ladies Kennel Society Championship Show!
The sun was shining down at The Malverns this weekend. The entry was HUGE! There were 31 entries in Junior Dog, the biggest class of the day. Storm showed his socks off and ended up in the final 8! So proud of him :)
Judge: Dianne Rourke- Knights (Lestronde)
12th April 2015
North West Golden Retriever Championship Show
A super time was had and our Storm was placed in both his classes, each with very large entries!!
2nd Junior Dog
1st Undergraduate Dog
Many thanks to the judge
Mr Bernard Catterall (Golmas)
29th March 2015
Morcambe and Heysham CS
Raiveslake Urban Storm
1st Junior
Judge: Mrs I Glen
5th March 2015
Crufts! What a great day we had!
Storm was a superstar in his class! Nothing phased him, we were so pleased that he enjoyed his day on the Green Carpet!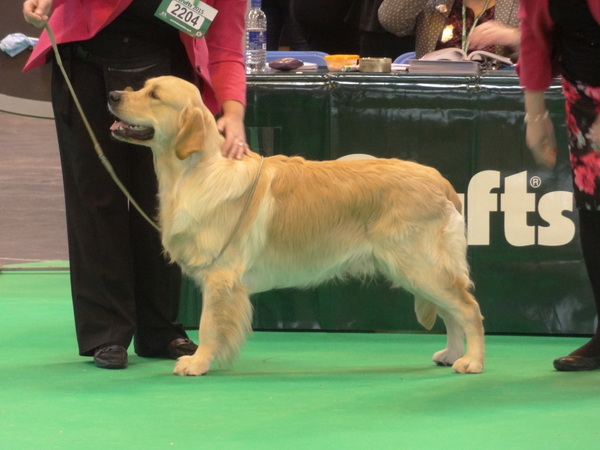 We also met Elton, Storm's brother at Crufts! He was with his socialiser at Dogs For The Disabled.
Such a proud moment for myself and Ste seeing how our boy has grown and all the things he has learned. He will soon be going into the centre to complete his training.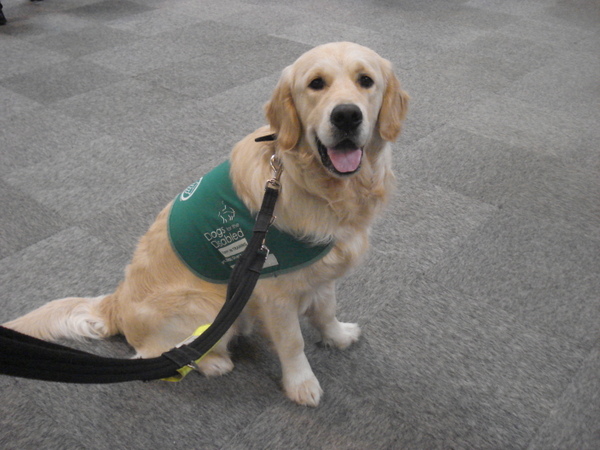 28th February 2015
Ashton In Makerfield CS
Raiveslake Urban Storm
1st Junior
& BOB!!!
Judge: Mason Thorne (Mabanika)
This was Storms third Best of Breed in a row, so proud of him :)
21st and 22nd February 2015
What an amazing weekend for Storm at only 13 months old. On the Saturday we travelled round the corner to St Helens & DCS Open Show where he was
1st Junior and 1st in Graduate!
He then went
BEST OF BREED!
We didnt think it could get any better he then went into the final line up for Best In Show where he competed against over 20 other Best of Breed winners! He topped them all by being awarded
BEST IN SHOW
therefore gaining his
CRUFTS 2016 QUALIFICATION !!!!
Huge thanks to both judges Mrs M Sutton and Mrs MA Hassock ( Camanna)
On the Sunday we travelled up to Yorkshire to the Yorkshire Gundog Open Show. It was a large quality entry.
Our Storm did us proud once more and won:
1st Junior
1st Novice
1st Graduate
and
BEST OF BREED!
Huge thanks to Paula Hill (Sandaula) for thinking so highly of him.
14th February 2015
Our first show of the year!
Huddersfield and DCS
Raiveslake Urban Storm
3rd Junior
8th February 2015
Had a wonderful time judging Golden Retrievers at Leigh Canine Society where my Best of Breed and Best Puppy both went on to win Group two in the Gundog challenge.
2nd January 2015
Happy 1st Birthday to this motley Crew, can't believe they are one already!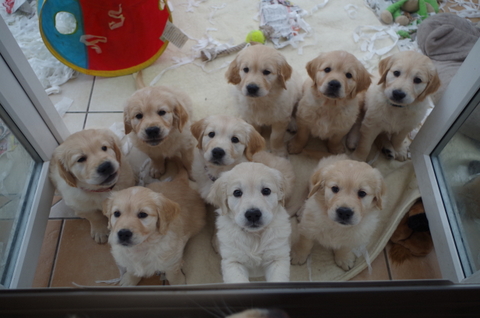 So its happy Birthday to our Storm, Bruce, Caramel, Scarlett, Jess, Storm (number 2), Elton, Ben & Marley xxx