Presents
Raiveslake Urban Storm
'Storm'
DOB: 2nd January 2014

Sire: Sh Ch Messano Urban Myth JW ShCM
Dam: Moloko Tootie Frootie With Raiveslake
Hips 6:7 Elbows 0
Storm is Progressive Retinal Atrophy (GR_ PRA 1 & 2) hereditary clear.
Heart Tested (Auscultation) - 0 score
Gonioscopy - Pass
Current clear eye certificate.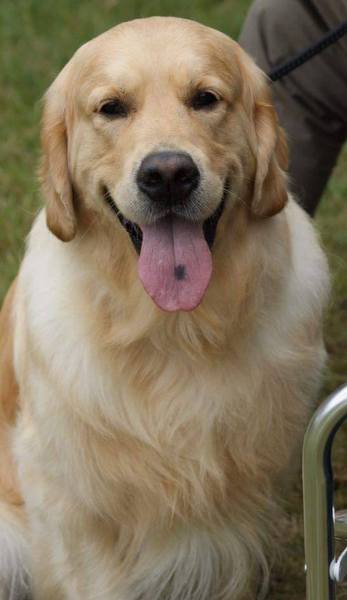 Storm at three years of age, such a smiler :)
We were not going to keep from Star and Rumours' litter but this big man decided he was staying.
Storm is a beautiful balance of his mum and dad, his dads looks with his mums charming personality!
He is totally adored by everyone at home ♥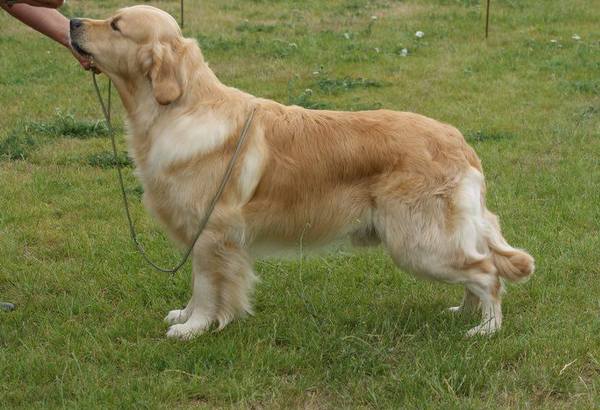 A grown up Storm, winning his class at Windsor Championship Show and qualifying for Crufts 2018 :)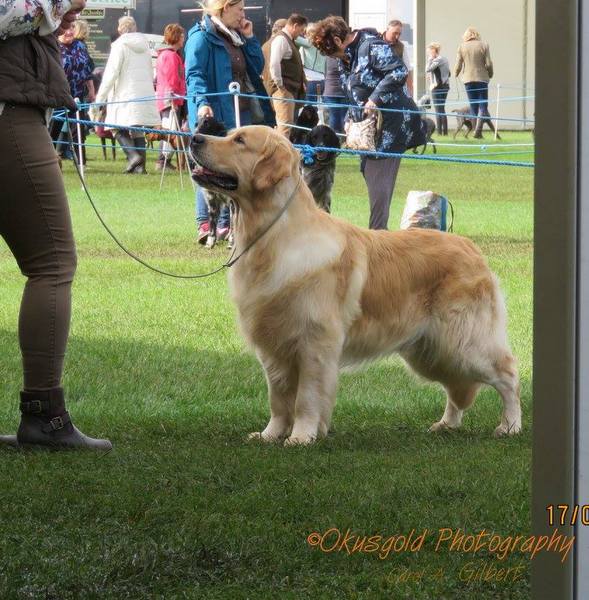 Storm at Darlington Championship show 2017!
2nd Post Graduate Dog
Storm made his debut at East of England Championship show on the 4th July at 6 months and 2 days old and qualified for Crufts 2015 by being placed 3rd in a gorgeous class of minor puppies :) :) we were so proud of our boy!!
Then after a few more shows, Storm had a break from the ring to allow him some time to start to fill his large frame.
After 3 months he returned and in his first weekend gained 2 x Best Puppy in Breed, 2 x Gundog Puppy Group 1's and a BEST PUPPY IN SHOW!
After Puppy came his Junior classes and at 13 months old Storm took 3 Best of Breeds in a row including a BEST IN SHOW!!
We were absolutely delighted and our big man took it all in his stride! He continued to be consistently placed in all his junior classes.
Summer 2016 saw Storm's return to the ring, after a full 12 months break. He did it in style by gaining Best of Breed, qualifying him for Crufts 2017.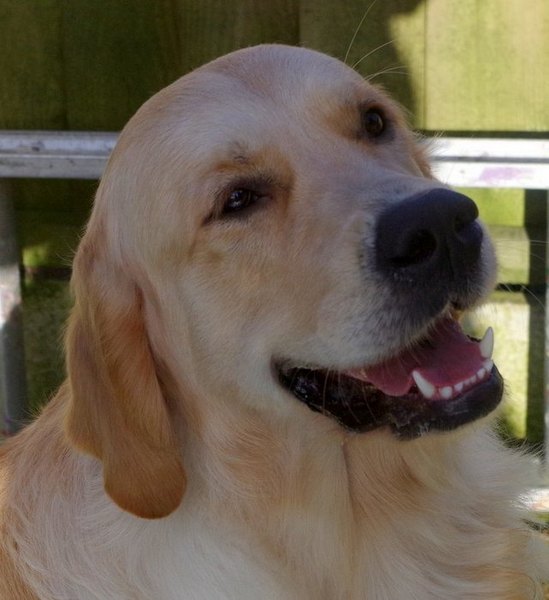 Our beautiful boy xx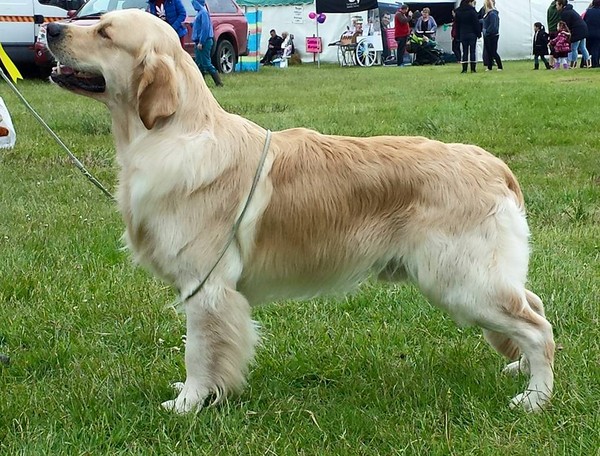 Storm at 16 months old winning BOB at
Great Harwood Agri Open Show, maturing very nicely!
Photo by Vicki Robert-Shaw (Arkensales)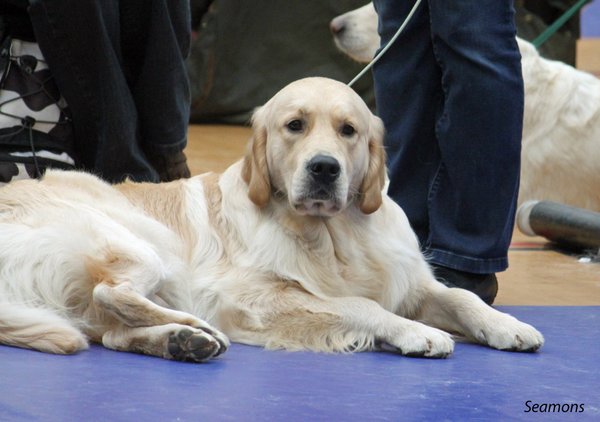 A thoughtful Storm aged 14 months, photo by Paul Seamons (Messano)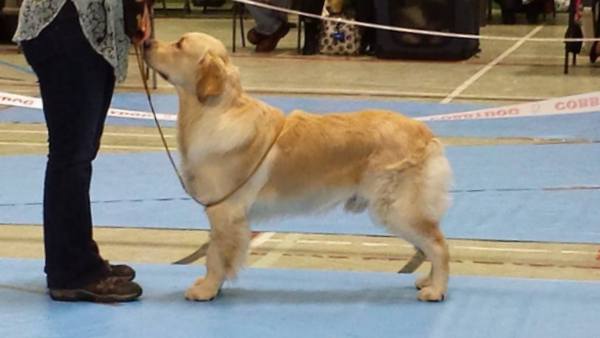 Storm winning the puppy group at Hyde & DCA at 10 months old,
he later went on to take BEST PUPPY IN SHOW!
Picture by Vicki Robert-Shaw (Arkensales)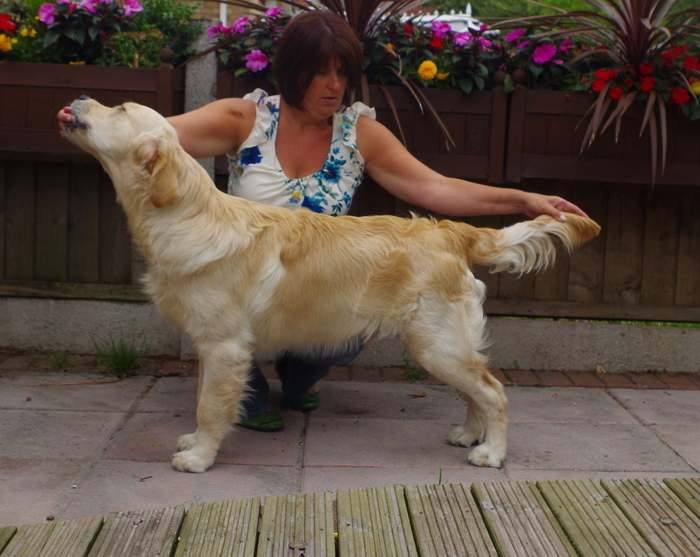 Storm at almost 7 months!
Here are some of Storm's critiques!
'1st Ayling-Jones' Raiveslake Urban Storm Well made dog, handsome boy with lovely expression, good bone & substance, well angulated front & rear, neat feet. Shown freestanding, in excellent well presented coat. Moved well, great ring presence to take BPIB, PG1 and BPIS!'
Sandra Magson ( Castlegolden)
'Puppy group 1 Golden Retiever Ayling-Jones' Raiveslake Urban Storm.
Wow! When this dog entered the ring it gave me tingles, head to tail this dog has it all, correct angles, topline and tailset, excels in bones & rear angulation, but it is in the movement when this dog comes alive, covers the ground with such ease and little effort. I had to remind myself that this dog is only a puppy. Has all the attributes to go all the way to the top! Fit for function and fit for top honours, PG1, absolutely delighted to see him gain BPIS;' Mark Hodgkinson (Achouffe)
'J (12,1) 1. Ayling-Jones raiveslake Urban Storm. Well up to size all male dog that is looking the part, so balanced and commanded attention. I last judged him at 6 months old and am pleased to he has fulfilled all the promise. He has the most appealing head with a melting expression that is enhanced by his good pigment, a balanced head with good depth of muzzle, carried well on a strong muscular neck . Good lay back of shoulders with upper arm of good length, straight legs with tight feet, short coupled, lovely bend of stifle, straight hocks. When he moved, he moved straight and true with good drive and carried himself well. He just filled my eye, give another 18 months, am sure he will do well. Delighted to award him BOB in very good company.'
Paula Hill (Sandaula)
'J Ayling-Jones Raiveslake Urban Storm Another nice male, gorgeous solid head, not course, of correct proportions, dark intelligent eye, lovely reach of neck to correct shoulder, good depth of chest with plenty of heart room, moderate length of back to well angulated rear, moved with drive and a coat of rich colour and texture. BOB and BIS '
Mrs H Sutton
'J (16, 2a)Ayling-Jones' Raiveslake Urban Storm, another promising quality dog of lovely type. Soft, gentle masculine head with dark pigment, strong neck into good shoulders, short coupled body with level topline, excellent rear quarters, presented and handled well. Sound mover.'
Bernard Catterall (Golmas)
'J - Ayling-Jones' Raiveslake Urban Storm, super young dog, 16 months old and in great condition. In lovely mid-gold coat and well muscled. Masculine well balanced head, with kind expression, dark pigmentation and correct dentition. Good length of neck, well angulated shoulders and a good depth of chest. Well angulated hindquarters , level topline and correct tailset. Moved well with drive covering the ground well. Handled well to present a very balanced outline. I have admired him since he was a puppy and hope his success continues. Pleased to award him BOB.
Vicki Robertshaw (Arkensales)
PGD (16) 1 Ayling-Jones' Raiveslake Urban Storm. Mature mid gold of good size. Typical head, strong neck and good bone. Good depth and spring of rib short coupled to firm and muscled quarters with a level topline and correct tailset. Strong and accurate mover.
Janet Barrow (Halebourne)
PGD (13) Ayling-Jones Raiveslake Urban Storm. Very nice boy of lovely type, shown in super midgold coat well handled, short coupled with excellent height length ratio, so easy on the eye with nothing out of place. Liked him a lot. Moved well.
Lynne Hennessey ( Ritzilyn)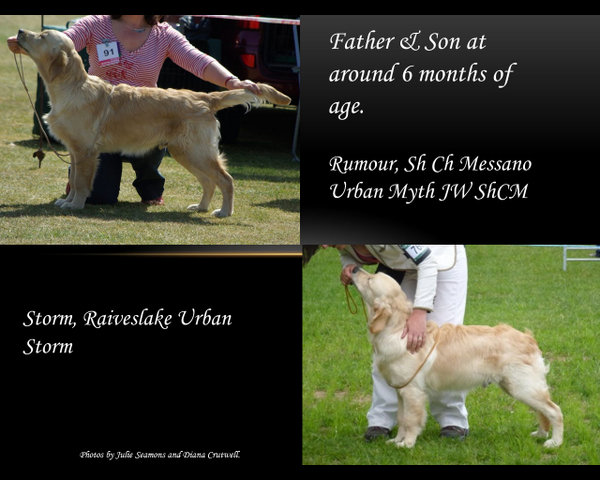 Pedigree

Parents
GrandParents
GreatGrandParents
SIRE

ShCh Messano Urban Myth JW ShCM

Sh Ch Ritzilyn Male Order JW

Ch Bramhills Blake
Sh Ch Ritzilyn Dynah Might
Messano Phoneafriend
Sh Ch Ritzilyn Manhattan
Messano Give Me Faith

DAM

Moloko Tootie Frootie With Raiveslake

Moloko McAdooSGWC
Ch Eyevalley Cannyman JW
Messano Keep A Secret From Moloko
Moloko Meadghbh JW(1CC, 1RCC)
Swed Ch Floprym Rivaldo

Trewater Party Cracker For Moloko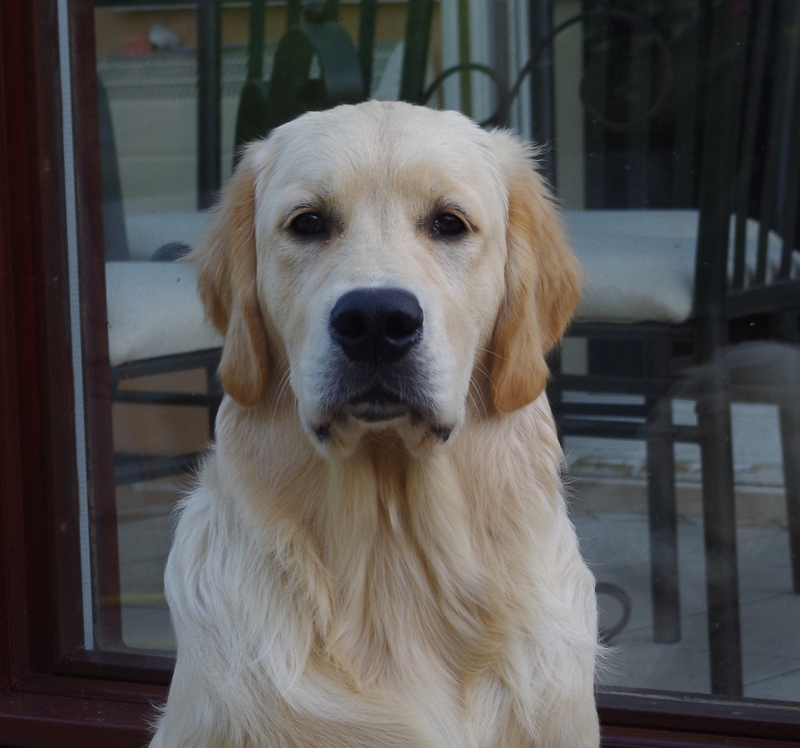 Storm at 5 months old :)
Baby Pictures of our special boy ♥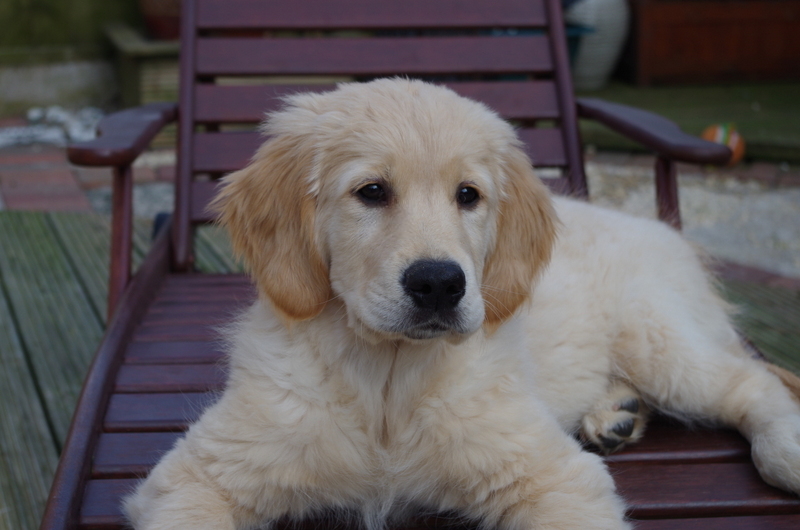 Storm at 12 weeks enjoying the Spring sunshine!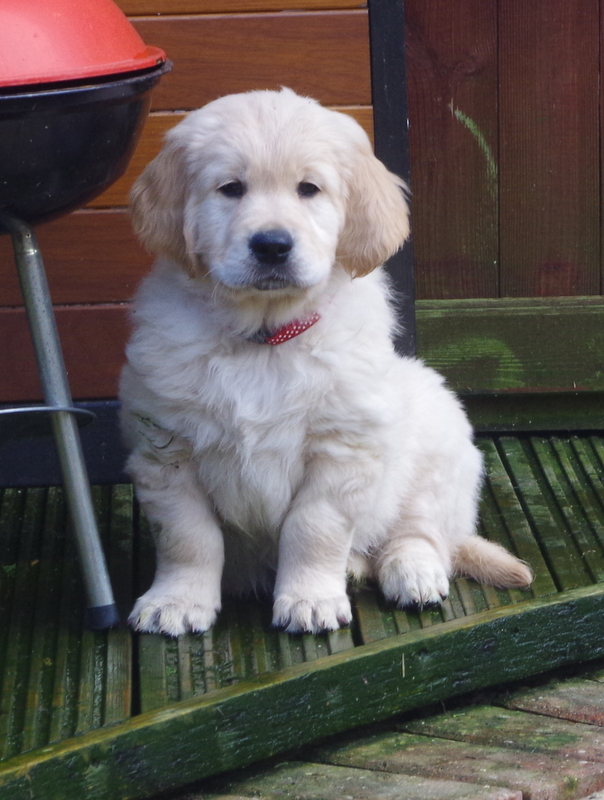 Storm at 8 weeks old! Such a chunk!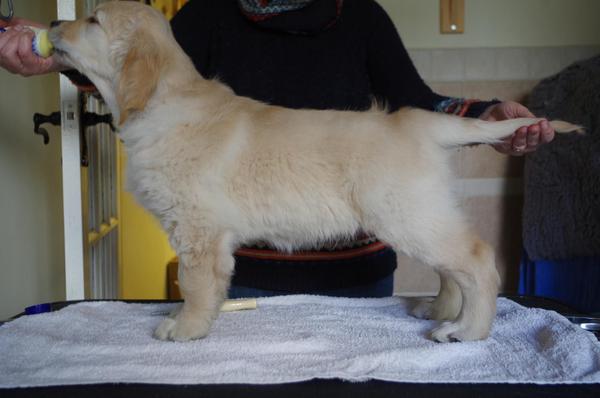 Standing at 8 weeks old!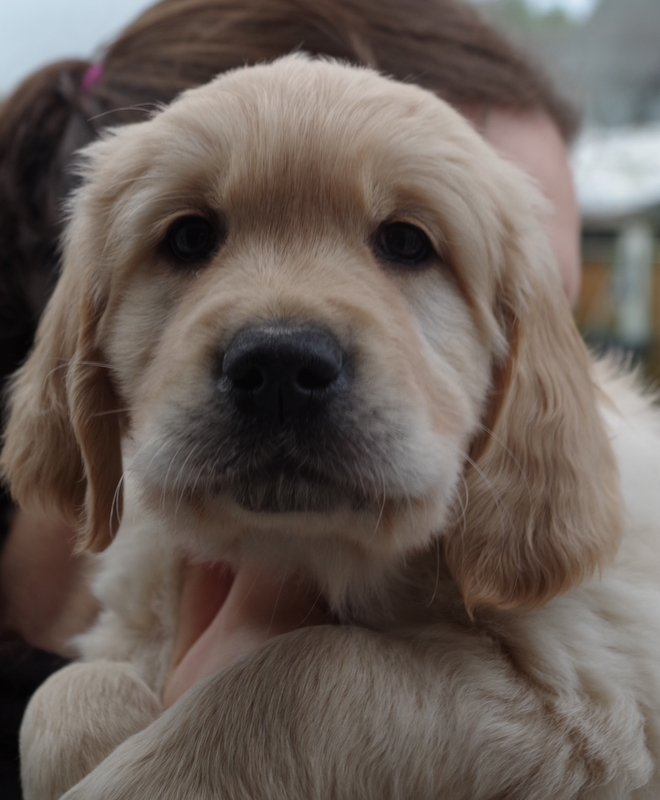 Head shot of the big man at 6 weeks!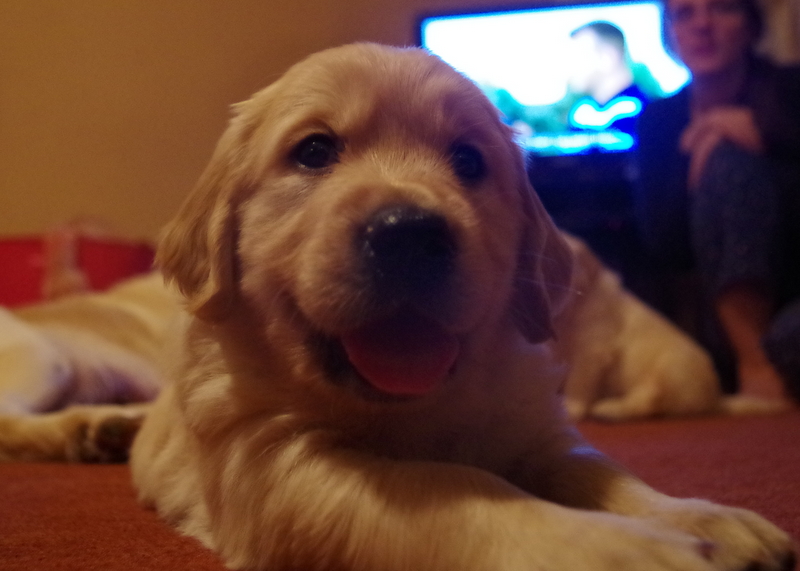 A Happy Smiley Storm at 5 weeks ♥